Revolutionizing Precision Manufacturing: InstaWerk's Advanced Online Calculation for CNC Machining
We're thrilled to announce a significant leap forward in CNC machining with InstaWerk's latest update to our online calculation platform, specifically designed for turned and milled parts. This enhancement is not just an upgrade; it's a complete reimagining of how precision manufacturing can be streamlined and optimized.
Innovative Features for Turned and Milled Parts
In the realm of custom manufacturing, where precision and specificity are paramount, the diversity in design implementation varies greatly across industries and individual companies. This diversity is further influenced by the wide array of CAD programs like Siemens NX, Catia, or SolidWorks, each impacting the data structure of design files and exports.
As manufacturing technology evolves, so do the capabilities in CNC machining. The introduction of new cutting tools, clamping devices, and manufacturing strategies continually pushes the boundaries of what's possible in production. While significant leaps in material development may be less frequent, the steady introduction of new materials still plays a crucial role in advancing manufacturing techniques.
Recognizing these industry trends, we've committed to the continuous enhancement of our online quoting tool for turned and milled parts. Our goal is to offer our clients the most up-to-date, competitive, and powerful solutions in the market.
What's New in the Latest Update?
Last weekend marked the rollout of our latest release, bringing not just minor bug fixes but also introducing sophisticated new features: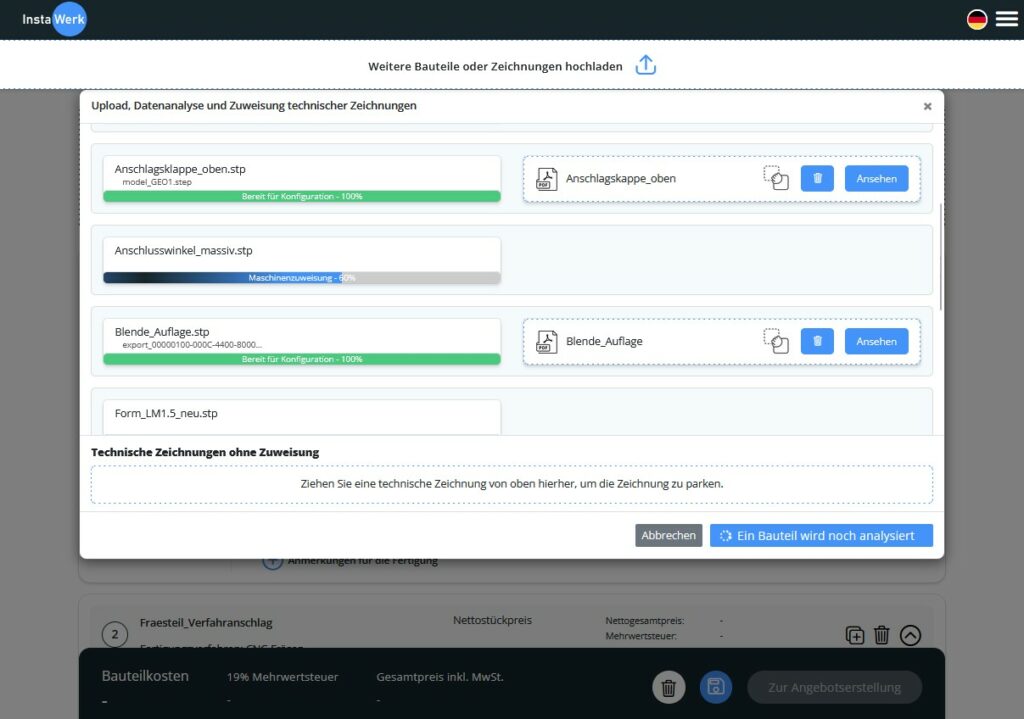 Automatic Matching of Technical Drawings: Our platform now allows for the simultaneous upload of multiple CAD files and their corresponding technical drawings. With our new matching feature, technical drawings are automatically linked to the correct CAD model, provided the naming conventions are similar. For those who don't use a naming convention based on similarity, a user-friendly drag-and-drop feature is available, offering a 'parking' space for technical drawings until they are assigned.
Support for IGES File Uploads: Recognizing the diverse needs of our clients, our platform now supports the upload and immediate calculation of turned and milled parts in the IGES file format. While the STEP format remains the preferred choice for CAD data exchange, especially in Germany, the IGES format has established its presence in industries less focused on manufacturing technology.
Uploading Assemblies of Turned and Milled Parts: Many of our clients group components into manufacturing units within their CAD models, especially in larger constructions typical in mechanical engineering. These 'assemblies' can now be uploaded as complete units, and our software automatically breaks them down into individual CNC components for individual configuration.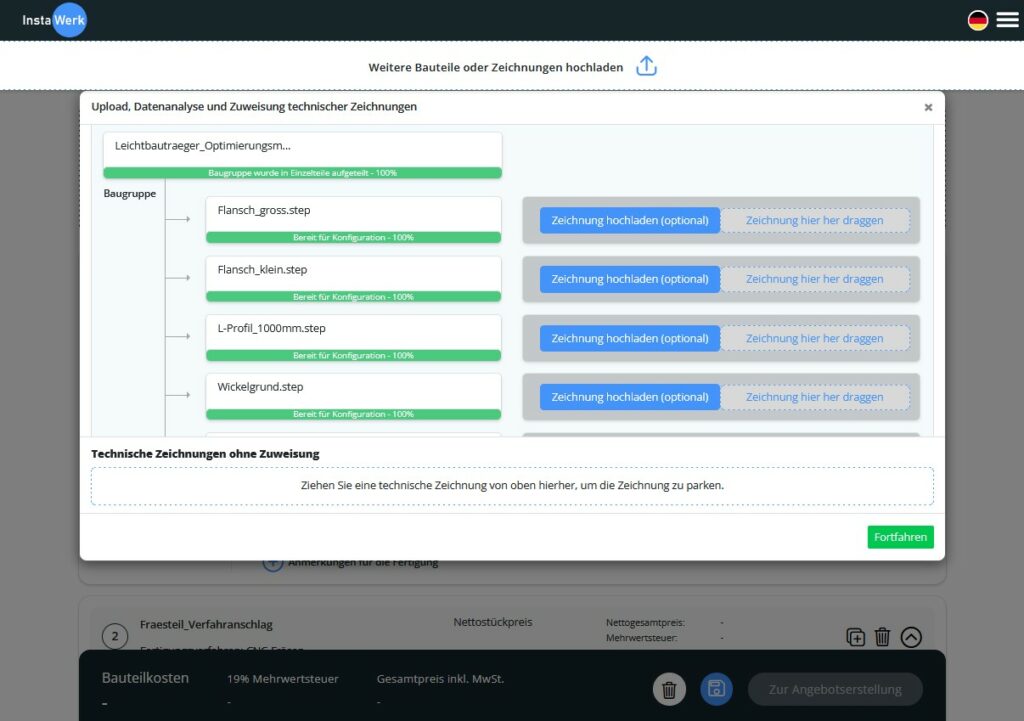 Experience the Future of Manufacturing Calculation
These new features are more than just technical enhancements; they represent a new era in digital manufacturing calculation. Designed to save time, reduce errors, and seamlessly integrate into existing workflows, these tools are tailored to elevate your manufacturing process.
We invite you to explore these innovative features and experience firsthand how they can revolutionize your production process. Visit our platform, try out the online calculation, and see how InstaWerk can transform your manufacturing projects.
Tailoring On-Demand Manufacturing to the US Market with InstaWerk
InstaWerk's expansion into the US market from Germany brings a game-changing approach to on-demand manufacturing, tailored to meet the unique needs and dynamics of American industries. Understanding the diverse and fast-paced nature of the US manufacturing sector, InstaWerk offers unparalleled benefits:
Localized and International Manufacturing Network: With a robust network of manufacturing partners, InstaWerk ensures reduced lead times and shipping costs. This approach not only supports the domestic economy but also enables more sustainable production practices by minimizing transportation-related carbon footprint.
Cutting-Edge Technology Integration: Embracing the forefront of manufacturing technology, InstaWerk integrates advanced AI and machine learning algorithms to optimize the production process. This technology provides US clients with efficient and precise manufacturing solutions, ensuring high-quality results even for the most complex projects.
Responsive Customer Support: InstaWerk prides itself on offering dedicated and responsive customer support, tailored to the American business environment. Our team understands the importance of clear communication and swift problem-solving to keep your projects on track.
Competitive Pricing with Transparent Quotations: The platform's sophisticated online quoting tool for CNC manufacturing offers instant, transparent, and competitive pricing. This transparency is crucial for US businesses to make informed decisions quickly, keeping projects within budget and on schedule.
By bringing these tailored advantages to the US market, InstaWerk is not just offering a service; it's providing a partnership that empowers American businesses to excel in a competitive global landscape. Join us in redefining the future of manufacturing, where efficiency, quality, and customer satisfaction are at the forefront.
Embrace the future of manufacturing efficiency with InstaWerk – where precision meets innovation. Get started today.