Digitalized product development: Developing hardware products faster
Anyone who works in product development knows what it is like to be a designer: the customer wants to have the component in his hands the day after the order is placed. At the same time, there are so many technical risks that you are constantly in a minefield of your own assumptions. On top of that, the boss wants to get the project done as cheaply and quickly as possible.
Fortunately, not only has competitive pressure increased in recent years, but some useful tools for hardware product designers have emerged to make our jobs easier. For example, finite element simulations (FEA) can provide more accurate insights into the mechanical behaviour of components. Using new methods like rapid experimental iterations can significantly reduce design risk, too.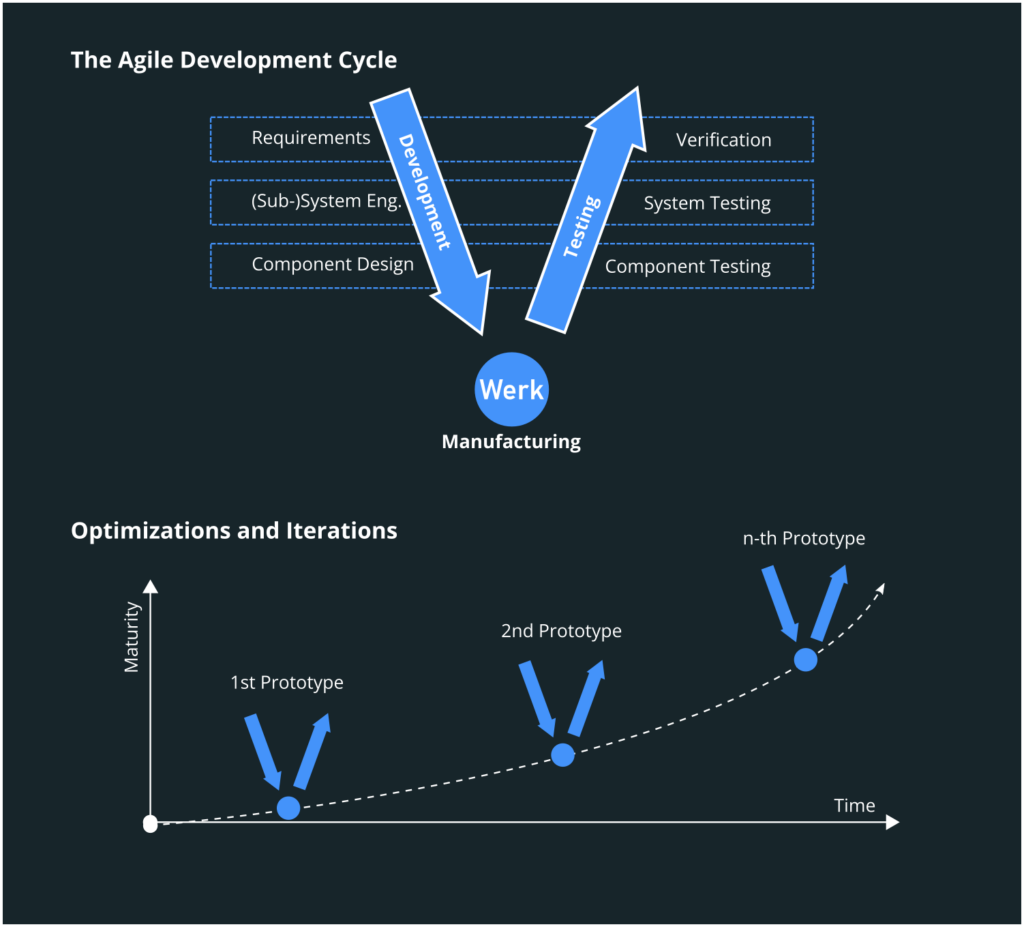 Unfortunately, these tools do not address a critical aspect of hardware development: the hardware. Anyone developing physical products must not only create them digitally on the screen, but also manufacture products in order to be able to test them. Experienced hardware developers know that, although a lot can be simulated and calculated, in the end hardware products have to be validated and optimised in experiments. This usually means changing designs, using different materials or redesigning the principle from scratch with the findings from the trials.
To develop complex products effectively, you need to start experimenting as soon as possible. And now there is a welcome innovation for product developers that makes the job much easier and faster: InstaWerk offers access to over 3,000 CNC machining resources via its online platform. Best of all, these resources are available at any time with just 10 clicks. This means that CNC parts can be sourced more quickly, trials can be carried out more quickly and products can be developed more quickly. This is made possible by instant quotes for CNC milled and turned parts.
Instant quotation of milled parts: Shift up a gear now
The process is simple: Upload your CAD models of the design, configure the components and order them instantly. Designers have a wide range of options for specifying their components in terms of surface finish or required tolerances.
This is made possible by AI-based algorithms that immediately examine the component and compare it with a database of hundreds of thousands of manufactured components. Aspects such as the clamping, machine type, material used and quantities are also included in the instant quoting of the milled part.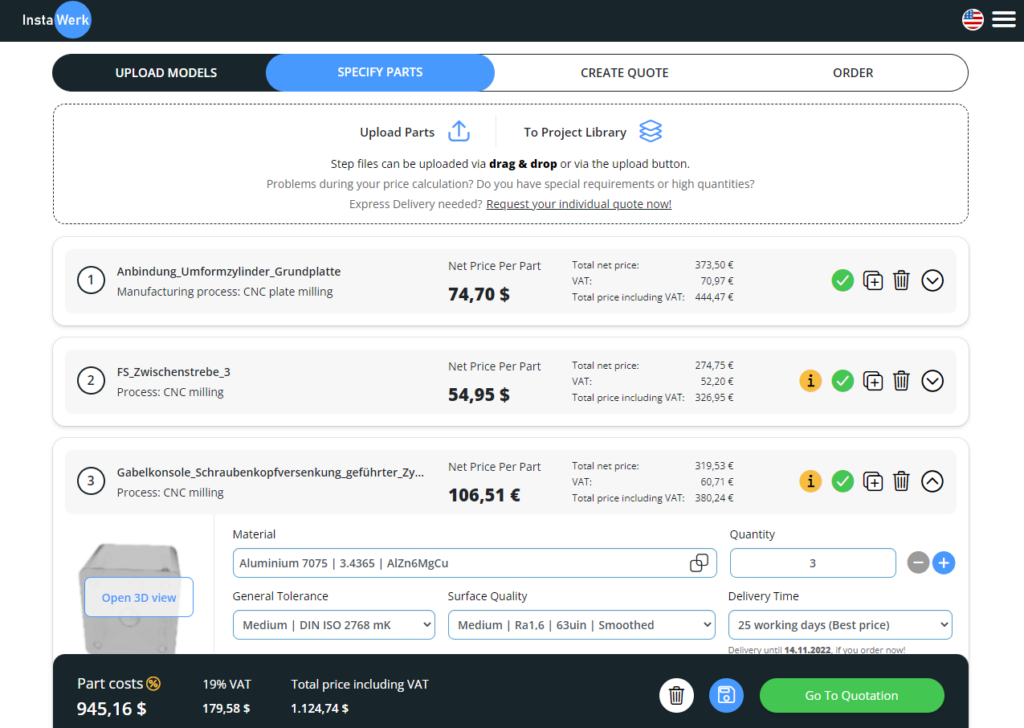 In addition to the calculation and production of turned parts and milled parts, InstaWerk also allows extensive post-treatments to be added to your part. For example, heat treatments, surface treatments and quality control options are available and can be added depending on the material.
What makes instant quoting of milled parts at InstaWerk special?
Behind every order are extensive processes, all with one goal in mind: Optimum customer satisfaction in terms of short delivery times, excellent quality and low costs. In recent years, the constant availability of materials and manufacturing resources has also played a crucial role. Our order management software has been developed with all these aspects in mind.
Once an order has been placed, the orders are first grouped according to the characteristics of the components; for example, titanium turned parts require a different allocation than 5-axis aluminium parts. Similar parts are bundled together with other orders and allocated to highly specialised CNC-manufacturers. The instant quote takes this into account, so there is no need to negotiate prices or other time-consuming activities. InstaWerk works with contractors on the basis of the quoted price.
On the one hand, very good conditions can be achieved by bundling orders and allocating the collected orders to specialised finishers, as this results in a higher purchasing power compared to a single order. On the other hand, the CNC manufacturers only receive orders that correspond to their area of specialisation. This ensures excellent quality and reliable, resilient business relationships, as fabricators only receive relevant work that matches their expertise.
The high throughput of components through our platform allows us to continuously evaluate individual pavers for quality. Manufacturers with excellent quality are rewarded with more orders, while repeated deficiencies lead to a reduction in order volume or even exclusion. The instant quoting of milled parts is therefore based on extensive quality control processes, of which the customer is initially hardly aware.
Thus, instant quoting and the intelligent order management of the manufacturing network are the basic building blocks for ensuring low costs, high quality and high availability at InstaWerk. This system creates a time and speed advantage, because it automatically ensures that both the most advantageous machine and the most suitable producer in the network are used.
A particular advantage of instant quoting of individual CNC parts is also the daily updated costing. Especially in turbulent times, when material and production prices are constantly changing, our transparent and stable cost calculation brings reliability for our customers.
Instant quotes and direct contacts from one place
Gone are the days when you had to spend hours preparing data for each development stage, contact manufacturers by e-mail and wait days for answers. The tedious process of comparing quotes for delivery times and costs, as well as asking for quotes, is also a thing of the past.
Successful product developers can now concentrate on their work again and run tests more quickly in order to bring high-quality components to market faster. As soon as the product achieves initial success in the market, InstaWerk is ready with its unlimited manufacturing capacities to realize the series in a scalable manner.
We look forward to your projects and an exciting exchange. Because in addition to online quoting, we have experienced engineers available at all times via e-mail for clarifying questions and joint project planning. In this way, we can also bridge the gap between an online offer with instant quotes and the advantages of a personal contact.