We are expanding our international deliveries
Since yesterday, turned parts and milled parts can be ordered with our instant-quoting portal from more than 30 countries. After selecting the delivery location, the delivery costs are automatically calculated based on the volume and weight of the parts. CNC-parts can now be ordered in minutes instead of waiting for quotes for weeks.
We started our journey 3 years ago as an instant quoting platform for turned parts and milled parts. Since then, word of our value proposition of easy ordering, high quality CNC parts and high reliability has spread quickly. Our first international orders came from Austria and Switzerland, where language barriers were low.
But orders also came in from France, Spain and Italy. So it was time to make our machined parts available to a wider audience. Since yesterday, the following countries can now be supplied with CNC parts:
We supply these 30+ countries with milled parts
🇦🇩 Andorra: This small country is mainly known for its tourism. However, the state is pushing the diversification of the economy, so that especially in the field of pharmaceuticals and optical technology some interesting companies have been founded. We are happy to help diversify the industry with our milled parts!
🇦🇹 Austria: Austria has an excellently developed industry, which has made a name for itself worldwide in the fields of sporting goods, mechanical engineering and plastics technology. Many Austrian companies are already customers of InstaWerk and trust in our high quality milled parts and competitive conditions.
🇧🇪 Belgium: Belgian chocolate is world famous. But besides sweets, the Belgian industry produces food in all forms. The pharmaceutical and chemical industries are also strong with industrial giants like Solvay. Sounds like good fields of application for our stainless steel milled parts.
🇧🇬 Bulgaria: Bulgaria's most important export is nonferrous metals. We can therefore be grateful to Bulgaria for important raw materials for our turned and milled parts. But the industrial landscape is also characterized by a strong textile machinery industry. SO Bulgaria is both a supplier and recipient of high-quality precision components.
🇨🇳 China: The mega-player of the East is an industrial heavyweight. The country has developed from a global workbench into a technology leader. In the fields of electromobility, renewable energies and mechanical engineering, China is showing rapid growth rates despite global crises. The importance of high-quality precision components plays a decisive role in the move toward high-value products, so we want to expand our cooperation with the Middle Kingdom.
🇭🇷 Croatia: The country's economy is dominated by shipbuilding, the iron and steel industry, and the chemical industry. There is therefore no shortage of applications for CNC components in the country.
🇨🇾 Cyprus: Although the industry in Cyprus accounts for only a small part of the value added with just under 18%, there are nevertheless some research institutes with a recurring need for CNC machining.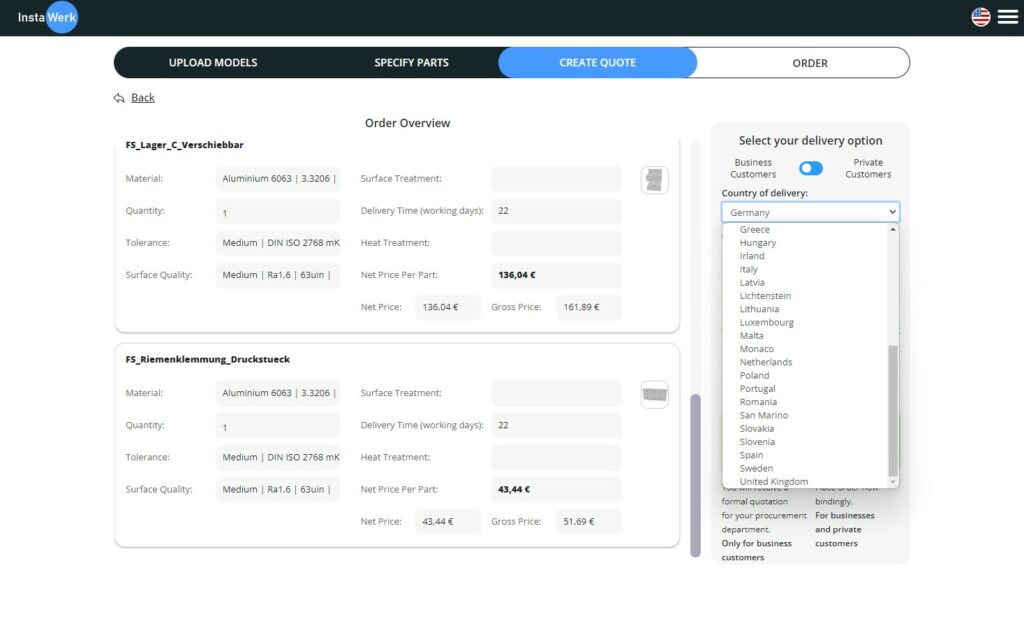 🇨🇿 Czech Republic: The country is a hidden champion in the field of electrics and electronics. It is good that we at InstaWerk also offer turned and milled parts made of copper, brass and bronze, as these are popular in the electrical industry for connectors and contact points.
🇩🇰 Denmark: The Danish furniture industry is known worldwide for its functional and modern design. But mechanical engineering also plays a major role in the country. There are also several government programs that specifically develop high-tech industries such as robotics in the country.
🇪🇪 Estonia: Estonia is a hotspot for the startup scene in Europe and is sprucing up its state infrastructure with digital solutions. Sounds like an ideal candidate for our CNC production platform, right?
🇫🇮 Finland: 85% of Finland's exports come from industrial products. The metal and electrical industries in particular take a large share of exports. We are looking forward to further cooperation with our partners in the North!
🇫🇷 France: French industry occupies a special position in Europe. The state industrial policy of independence and autonomy, however, does not mean at all not to buy products from abroad. In fact, French companies are characterized by a pragmatic and cooperative culture.
🇩🇪 Germany: The industrial power house of Europe is known worldwide for its high-quality, cutting-edge products. From automobiles to the electrical industry to mechanical engineering, there is a virtually inexhaustible market for turned and milled parts. But the supplier structure in Germany is also well developed, so that we at InstaWerk are happy to use German manufacturers to produce the highest quality components on the most modern machines.
🇬🇧 Great Britain: Great Britain is the oldest industrial country in the world. This history has led to the development of a number of cutting-edge technology sectors, which have experienced an increasing shortage of components since Brexit. Here we are happy to help out with our international supplier network.
🇬🇷 Greece: Greece also has a significant textile industry and a strong metal processing sector. In recent years, there has also been an increased focus on high-tech sectors to modernize the country's economy.
🇭🇺 Hungary: Hungary has always played a predominant role in the mechanical engineering sector of the Eastern European countries. The country is known for its well-trained technicians and engineers. As a result, more and more industrial companies from the West are locating their production facilities in Hungary. This, of course, also creates an ever-increasing demand for CNC machined components.
🇮🇪 Ireland: Over 50% of Irish exports are pharmaceutical products. And wherever pharmaceutical products are produced, there is a need for stainless steel components such as those offered by InstaWerk.
🇮🇹 Italy: Italy has an excellent reputation worldwide in the mechanical engineering sector. Over 131 billion euros was generated in Italy in mechanical engineering in 2021. This makes Italian companies both important suppliers in the production network and important customers who rely on efficient and quality-oriented purchasing.
🇱🇻 Latvia: over 75% of the products of the mechanical engineering industry in Latvia are exported. At the same time, machinery and mechanical equipment were imported for 1.5 billion euros in 2020. This makes Latvia an important hub for precision components and we look forward to further cooperation with our Latvian partners.
🇱🇮 Lichtenstein: The small country in the Alps has the world's largest share of employees in industry and is home to world-renowned companies such as Hilti. With such a focus on industrial value creation, InstaWerk can't be missing, can it?
🇱🇺 Luxembourg: The largest iron and steel conglomerate in the world, Arcelor is based in Luxembourg. So if you order steel milled parts from InstaWerk, you have a good chance of getting your hands on an original Luxembourg product.
🇲🇹 Malta: Even though the economy in Malta is dominated by the service sector, there are some manufacturing companies, especially in the textile industry, electronics manufacturing and in the production of car parts.
🇲🇨 Monaco: The country is known for its banking and service sector, but hardly anyone knows that industrial companies such as Mecaplast or Eaton also operate in Monaco.
🇳🇱 Netherlands: Despite the manageable size of the country, there are almost 3,000 mashcine construction companies in the Netherlands, which generate almost 21 billion euros in sales. The automotive industry, electronics and chemicals play a predominant role.
🇵🇱 Poland: Poland was long known as the extended workbench of its western neighbors. However, the country has successfully emancipated itself from this role and, in addition to a highly qualified workforce, is also producing its own successful companies in the fields of aeronautical engineering, drive technology, machine tools and materials handling technology.
🇵🇹 Portugal: Portugal is regarded as a start-up mecca in Europe, boasting a large number of IT companies in particular. At the same time, however, a quarter of the workforce in Portugal is employed in industry. This mixture of future-oriented digitalization and industrial basis corresponds exactly to what we at InstaWerk stand for as an online production platform and we look forward to further cooperation with Portuguese companies.
🇷🇴 Romania: For a long time, mechanical engineering, chemicals and petrochemicals dominated Romania's industry. Recently, however, more sophisticated products in higher-margin niches have come to dominate. As a result, the demand for high-quality CNC components, such as those we offer at InstaWerk, is also increasing.
🇸🇰 Slovakia: The mechanical engineering sector in Slovakia is dynamic and has recovered from the Corona crisis the fastest of all industrial sectors. This is made possible by increasing investments in the country's industry.
🇸🇮 Slovenia: Slovenian industry is dominated by petrochemicals. In 2018, Slovenia was still the growth champion of European industry. This success was realized primarily through strong export companies. With the increasing demand, more and more CNC components are also requested from the growth country.
🇪🇸 Spain: Spain has a strong mechanical engineering industry that exports machinery worth 15 billion euros annually. At the same time, the aerospace, IT and security industries are growing, resulting in a high demand for milled and turned parts.
🇸🇪 Sweden: Sweden used to be known for its "Swedish steel", which had a high hardness and was popular for knife blades. Mining for the extraction of ores still plays a major role. At the same time, many high-tech industries have also developed. The country produces cars, ships and airplanes, as well as sophisticated mechanical and plant engineering and electrotechnical components. So there should be no shortage of demand for milled parts.
🇨🇭 Switzerland: Switzerland stands for top-quality components, machines and systems. At the same time, high labor costs often make it difficult to compete internationally in cost-critical industries. This is where InstaWerk offers Swiss companies access to high-quality contract manufacturers in our manufacturing network and straightforward ordering and customs clearance.
🇺🇸 United States: The United States is the world's largest market for manufacturing. The American pioneering spirit and pragmatism are constantly bringing new, innovative companies and products to the market. American companies rely on German quality, which is why we at InstaWerk have been able to win many innovative companies as customers for our turned and milled parts in recent years. We are looking forward to further transatlantic cooperation!
Global partnerships for improved competitiveness
As a global sourcing solution for turned and milled parts, we work with CNC manufacturing companies all over the world. We are pleased that we can now reach more customers with the expansion of international deliveries. In doing so, we remain true to our goal of making high quality components easily, competitively and quickly available to companies of all sizes. We look forward to our continued cooperation!