If you want to have your design manufactured after hours of work on CAD, you often look for a suitable CNC service near you. Short communication channels are usually the most important motivation to search close-by.
In this article, I would like to discuss when manufacturing at a CNC store near you is the right choice, how to find a suitable CNC service and when it is better to rely on manufacturing platforms.
Why should you use a nearby CNC service?
Working with a nearby manufacturing store can have many benefits. In days of digital collaboration and constant online meetings, it may seem silly to still place your order based on local proximity. But especially in the production of custom CNC parts, this proximity can make sense.
During a personal visit to the machining shop, not only can the machines and reference parts be examined, but personal discussions can also be held using 3D models and technical drawings. Talking to the manufacturer often gives rise to new ideas for more efficient implementations. Problems are identified together at an early stage this way.
Short distances are also advantageous during and after production. If problems arise during production, quick and practical solutions can be sought with the local manufacturer.
These factors make local production of CNC milled parts advantageous if you want to quickly turn around custom parts with high complexity without having any cost pressure. For cost-sensitive CNC parts or components that need to be produced in large numbers, local manufacturing is usually too expensive. However, if you are prepared to bear the additional costs, you can achieve presentable results quickly and in close coordination with a local manufacturer.
When is a local CNC Machine Shop not the right choice?
However, limiting yourself to a local CNC service also has some drawbacks that make alternative sourcing more advantageous, depending on your business type and goals:
Cost: Compared to manufacturing platforms that buy efficiently through order bundling, master agreements and international sourcing, the bargaining power of local CNC manufacturing is on the supplier's side. Also, the high wage level and high material costs on an international scale are directly reflected in the component costs.
Quality: those working with a local CNC fabricator can be lucky or unlucky, as the choice of fabricator is usually based on a gut feeling or reputation. Manufacturing platforms, on the other hand, base manufacturing assignments on Big-Data analysis of their finishers. With thousands of parts passing through manufacturing platforms like InstaWerk every day, quality can be tracked and assessed on a permanent basis.
Scalability: As convenient as it may be to use a paver to optimize its components for production, however, it is difficult to derive a scalable solution for larger series from this optimization. The solutions developed are often the IP of the manufacturer or require more detailed specialized knowledge, special tools or processes that are not widely available. The entrepreneurially and technically better way is to design constructions so that they can be manufactured with widely available and standardized machines. Such designs can be efficiently purchased through manufacturing platforms. 
Accessibility: In the last years it was hardly possible to get quotes from manufacturers at all. The capacity bottlenecks, the shortage of skilled workers and the high cost of materials make the machining of small orders increasingly unattractive.
Using a local CNC Service
Using a Manufacturing Platform like InstaWerk
– Higher Costs are acceptable
– Use of special tools or special machines needed
– No scaling to larger quantities needed
– Implementation in shortest time necessary (less than 4-5 days)
– Communication-intensive design
– Intensive quality research to be carried out in advance by the client (machine review, reference components, QM processes)
– Attractive conditions
– Access to many machines and post-treatments in combination (e.g. 5-axis machining of aluminum followed by anodizing)
– Various delivery time options from 5-20 days
– Efficient scaling from prototype to series production
– Data-based quality management is automatically available to all customers.
Comparision Table: When to choose which option?
What alternative is there for CNC manufacturing?
Instead of researching, contacting, auditing and quality checking companies, this activity can be transferred to specialized On demand Manufacturing Platforms. InstaWerk operates an audited network of over 3,000 CNC machining companies, accessible through a convenient instant quoting portal. As a specialized platform, InstaWerk handles the continuous sourcing of new manufacturing partners, ongoing auditing and logistics to the doorstep. High cost advantages can also be achieved through order bundling.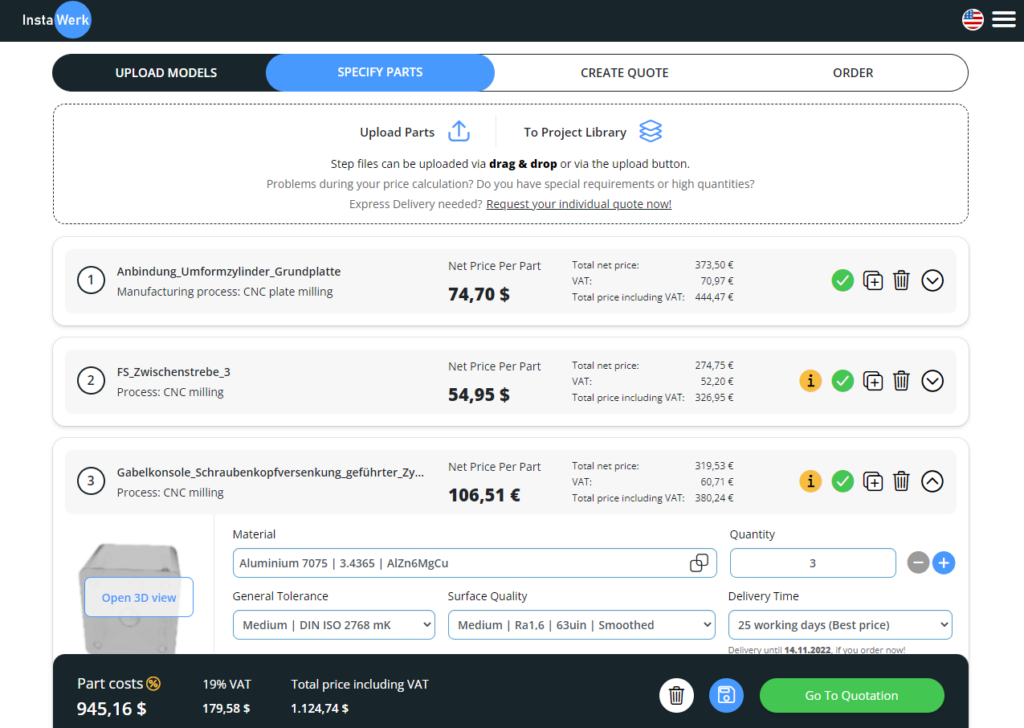 Conclusion: When should you use a CNC Machining Service Near You?
Whether choosing to have manufactured being done at a local CNC Machine Shop or on a Manufacturing Platform, each of the ordering options has its advantages and disadvantages. Therefore, it is important to determine which factor is critical for your own project.
If you are looking for a high-quality, cost-effective and scalable sourcing solution, you can easily try our instant quoting software for free.